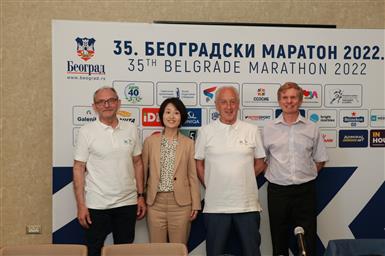 The Board of Directors of the AIMS World Marathon Association was held
Saturday, 14. May 2022
Press release 05/14/2022.
Dejan Nikolić elected AIMS ambassador for Eastern Europe
The Board of Directors of the AIMS World Marathon Association was held
Today, a press conference was held after the three-day meetings of the Board of Directors of the World Association of Marathon and Street Races (AIMS), and as part of the jubilee 35. Belgrade Marathon. Paco Borao, President of AIMS, Hugh Jones, Secretary General of AIMS and Saki Mitsuda, Director of International Cooperation of the Nagoya Women's Marathon addressed the gathered media.
AIMS leaders gathered in the capital of Serbia to support the jubilee 35. Belgrade Marathon, which is among those with the longest tenure in the organization, but also announced new activities.
"The negative period of the pandemic is behind us, we canceled the Congress in Batumi twice and we are grateful to Belgrade for the opportunity to "restart" the activities of our organization. We have scheduled the next Congress in Osaka next year, which, as you know, is a country with high standards in the marathon" , said AIMS president Paco Borao.
Former long-time director of the Belgrade Marathon, Dejan Nikolić, was appointed today as the ambassador of the World Association of Marathons and Street Races (AIMS) for Eastern Europe at the meeting of the Board of this organization in Belgrade.
The International Relations Director of the Nagoya Women's Marathon, Saki Mitsuda, said on that occasion: "The Japanese as a nation love to run, but also to watch and cheer for the participants in large numbers. We are proud to host AIMS after 40 years, because the first meeting was held in Tokyo. We are preparing sessions on the topic of post-pandemic recovery. The congress is an opportunity for all of us to come together and create new connections and friendships. The AIMS Congress will be held from 23 – February 25, 2023 year, and the Osaka Marathon a day later, February 26, 2023."