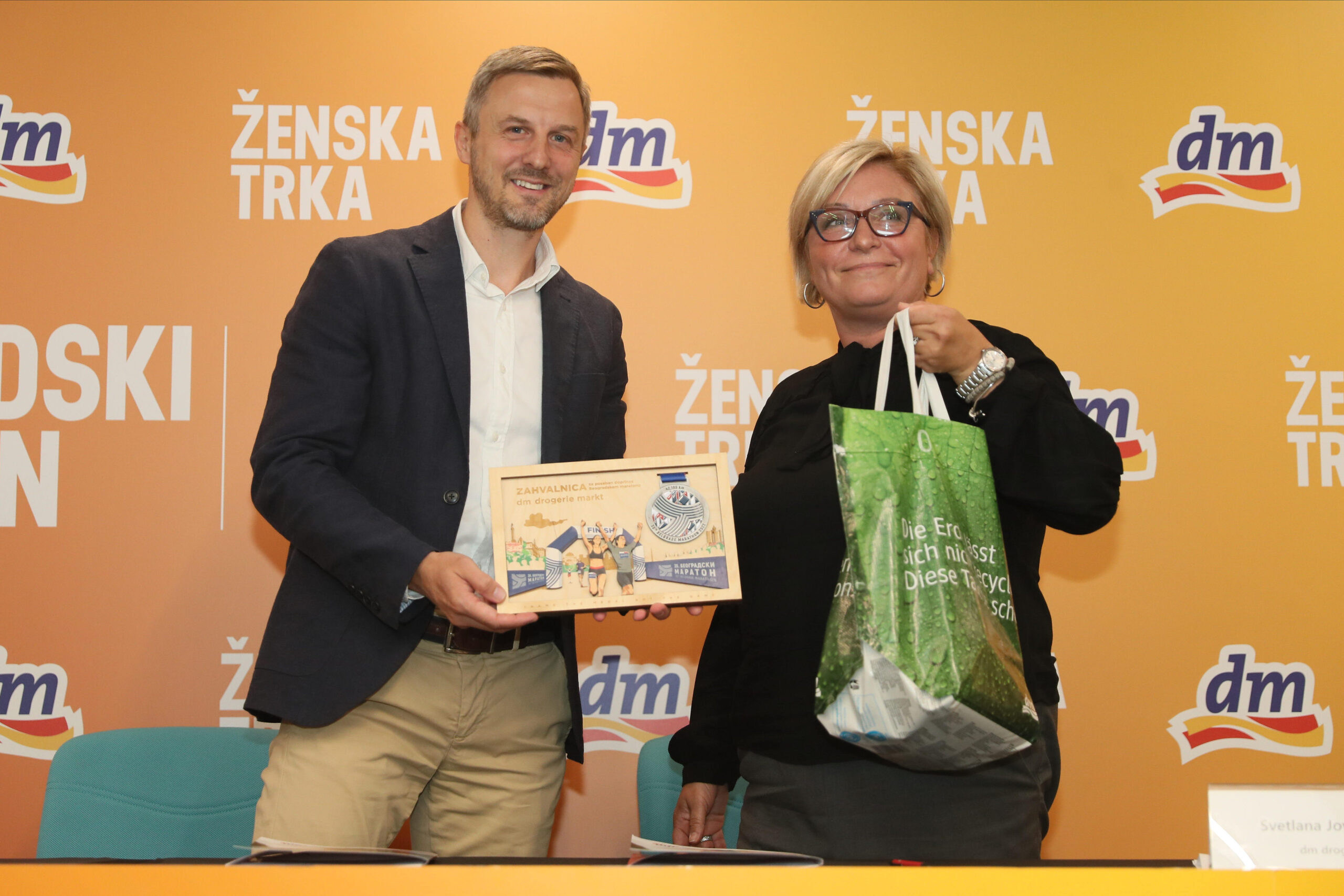 "I can do it" is the slogan of this year's dm Women's Race on Ada Ciganlija
Tuesday, 20. September 2022
On the occasion of the traditional dm Women's Race organized by the Belgrade Marathon, a media conference was held today at the Mona Plaza Hotel, where it was announced that the dm Women's Race will take place on Sunday, 02. October 2022 starting at 10 a.m., on Ada Ciganlija under the slogan "I can do it!"
The organizer announces a larger number of registered participants than last year and a number of 1,500 women who will run or walk a circle around the lake, 7.7 kilometers long, and proudly say "I can do it!". This sports event aims to promote the importance of physical activity, especially running and walking for the health of the female population as a primary prevention, but also good socializing, strengthening female solidarity through activism, support and motivation. In addition, this year's race slogan tells women that with a little will they can beat their own lifetime records.
"We want to attract as many women as possible who will perhaps try running for the first time and who we will motivate so that the DM Women's Race will be the beginning of more active sports and the first race in preparation for the final of the racing season, which is certainly the 36th Belgrade marathon in 2023. The idea behind the slogan "I can do it" is the motivation of women to find time for themselves and their health in addition to all their daily duties. Today it is demanding to be a woman, she is expected to be a good wife and devoted mother, and on the other hand to be successful in her work. All this leads to women having little time for themselves and their health. That is why we believe that the promotion of a healthy and active way of life in the female population significantly affects the increase in the number of women in sports activities in recent decades, but also their better physical and mental health, as well as a better quality of life. This slogan tells them that with a little will and effort, the sky is the limit!", said Darko Habuš, director of the Belgrade Marathon.
In the promotion of a healthy and active way of life, the participation of public figures is of inestimable importance, because with their words and deeds they motivate and move the society in which they live. The dm ambassador of the Women's race is our celebrated basketball player and great fighter Nataša Kovacevic. She addressed herself through a video message and said on that occasion: "The very concept and idea of the slogan "I can do it" attracted me immediately, as well as the positive story and atmosphere surrounding the dm Women's race, but also around the Belgrade Marathon in general. I believe that such a way of communication encourages certain changes in society, works to empower women, sets positive examples and changes the way of thinking, encouraging us to believe in ourselves a little more."
The second part of the press conference was dedicated to the official signing of the contract between the Belgrade Marathon and the event's general sponsor and title sponsor, the company dm drogerie markt, known for its social engagement, women's empowerment and promotion of a healthier lifestyle. On that occasion, Svetlana Jovanovic Mitic, Marketing and Communications Manager of the dm Serbia and North Macedonia, said:"We are very proud to be a part of the dm Women's Race for the second year in a row, the only and our favorite mass sports event dedicated exclusively to women. This race is another very important activity of our company with which we want to inspire, empower and support women in every sphere of life. This is not a race of only sporting character. We strive to promote health care, but we also want to provide support to people with disabilities, who also participate in this race and whose participation we are immensely looking forward to. Part of the dm Women's Race will be activations focused on ecology and sustainability, with which we together send a clear message about the importance of environmental protection. We would like all our participants to take away from this event a sense of community and faith that they can always be an important support to each other."
The successful cooperation that the Belgrade Marathon achieves with the SOSSIB organization motivated and initiated a large number of disabled people to run their first kilometers, and a large number of ladies are expected at this year's dm Women's Race. Association MAMA FIT will walk a circle around Ada with pregnant women and mothers in labor and show that moderate physical activity is desirable even in a different state, and that if they can do it, so can each of you.
In addition to dm Women's Race, carefully selected partners will also be present at Ada Ciganlija with their activations, namely: the Secretariat for Environmental Protection, the company Zelenilo Beograd, Srbijašume, the company Gradska cistoca and the company Sekopak.
All participants of the dm Women's race will receive an official T-shirt of the race in the participant package, as well as gifts from the title sponsor dm drogerie markt, and after running 7.7 km – medals and refreshments await them at the finish line. All ladies who have not registered for the dm Women's Race can still do so via the Belgrade Marathon website.