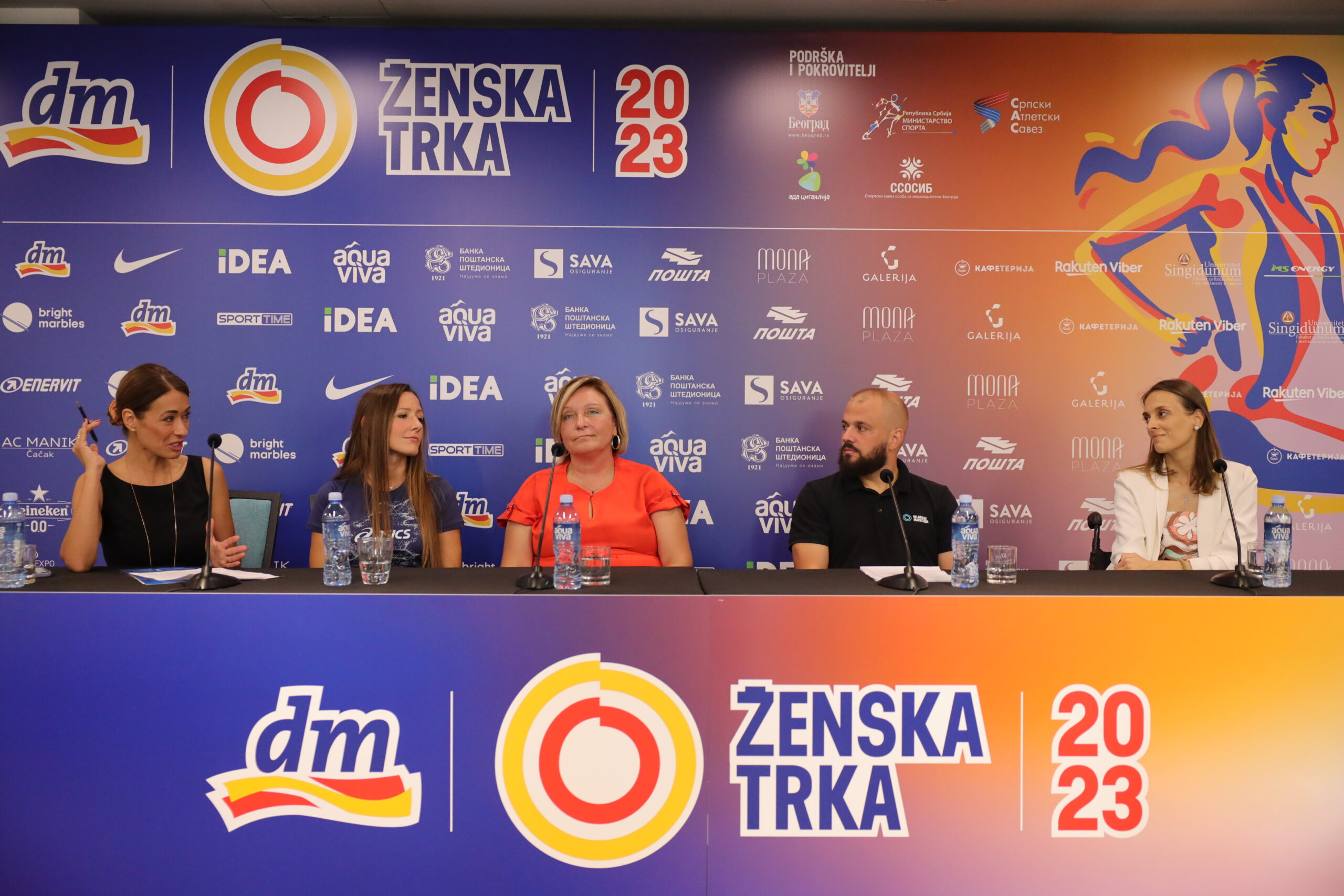 Media conference held in anticipation of the dm Women's Race at Ada Ciganlija
Monday, 18. September 2023
A message to all women: #ICanDoIt
At the press conference held at the Mona Plaza Hotel, the traditional dm Women's Race, with the slogan #ICanDoIt, organized by the Belgrade Marathon, was announced. The race will take place on Sunday, October 1, 2023, starting at 10 AM at Ada Ciganlija.
Due to the increasing interest among women in an active and healthy lifestyle, as well as the growing number of participants in the dm Women's Race, the start and finish area has been moved to Makiš Park (on the right side of the main parking lot on the Makiš side of Ada Ciganlija).
Over 2000 participants are expected to run or walk together around the lake, covering a distance of 7.7 kilometers. Participants can look forward to a rich entertainment program and socializing starting at 9 AM, including a group warm-up, Zumba, a prize game, and numerous other activities.
Nikola Marinković, a representative of the Belgrade Marathon, stated, "This sporting event organized by the Belgrade Marathon is dedicated to all women and aims to promote the importance of physical activity, especially running and walking, for women's health as primary prevention, as well as for good fellowship, solidarity through activism, support, and motivation."
Once again this year, dm drogerie markt is providing support for the Women's Race. The company is dedicated to empowering women, emphasizing the importance of self-care and health as a top priority.
"We are delighted that dm drogerie markt is the title sponsor of this year's dm Women's Race, a unique event within the Belgrade Marathon. With the slogan #ICanDoIt, this event is a great opportunity to encourage women to show that there are no limits for them, and that together we can achieve anything. Empowering and supporting women has been a focus of dm for years in various projects, such as the campaign we conducted this summer dedicated to the physical, mental, and social health of women. Therefore, the dm Women's Race represents a kind of culmination of that campaign, as well as a great opportunity to feel a new energy, awaken the sporting spirit, and the desire to truly be there for each other," said Svetlana Jovanović Mitić, the Marketing and Communication Manager at dm Serbia and North Macedonia.
Nora Trklja, an athlete, stated, "Today, I am here as a representative of all athletes but also as a woman and a future mother. I want to support all women to engage in physical activity because it is the only recipe for a healthy and happy life." She added, "As you can see, I am expecting a baby and won't be competing in the dm Women's Race, but I will come to walk around Ada with all of you because I want to tell you that if I can do it, each of you can."
Marija Vučković, a woman with disabilities from the SOSIB association, conveyed a message to all women: "As a mother and a person with a disability, with the help of my family, I manage to train several times a week with the Sports Association of Persons with Disabilities because I believe it's good for my health. I want to send a message to all women that if I can do it, anyone can get involved in some physical activity."
All participants in the dm Women's Race will receive a high-quality Nike dri-fit shirt in their participant package, as well as gifts from the title sponsor dm drogerie markt. After completing the 7.7 km race, participants can expect medals, refreshments, and good fun.